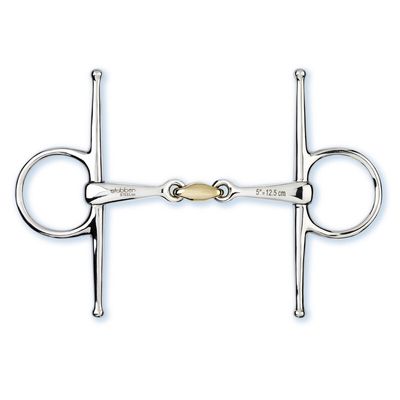 2270 FC-SNAFFLE
STUBBEN
$239.95
Full Cheek Double-Jointed Snaffle with Copper Link
Mouthpiece diameter 10.5cm: 11mm; 11.5cm and above: 14mm
Cheeks length 12.5cm and under: 120mm; 13.5 and over 140mm
Benefits of SWEET copper mouth:
Better acceptance
Pleasant sweet taste of the middle piece
Encourages chewing and salivation
Solid copper composition (90% Copper, 7% Iron and Aluminum, no Nickel) with very high strength
Horses feel good with SWEET Copper
Benefits of a Full Cheek Snaffle:
Long and extended arms above and below the mouthpiece with a ring attached to it. The cheeks have a good lateral guiding effect which enhances the response of the horse on the outside rein when riding bends and circles
The leverage effect is not very high. It can be increased however when used with bit keepers, which keep the bit more fixed in the mouth
Full-cheek-snaffles have proven to be especially good for training young horses and lungeing work.
Stubben STEELtec quality:
No rough edges that could hurt the horse's mouth
Long durability due to selected materials
A special processing technology ensures that bit holes and link pieces remain intact for longer
SKU: 10000-382-3-6