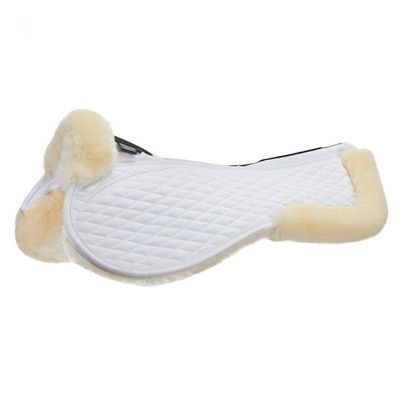 STREAMLINE LAMBSWOOL HALF PAD
STUBBEN
$345.00
We are setting new standards with this high-tech pad. Thanks to the robust Velcro strip on the topline in the lumbar area in combination with the saddle component, unprecedented comfort is achieved under the saddle. Even while riding, the product remains chambered and does not pull on the withers or the loin area of the horse. The sensitive area around the spine is thus protected.
The lambskin pad is made of 100% natural lambskin from Australian Merino sheep. The pad is equipped with a super-soft velour edging, a fashionable piping band, reinforced swirl channel zone as well as an opening for the adjustable press stud fastenings on the breastplate drop rings, if used in conjunction with a Streamline saddle pad. Thanks to the innovative and easy-to-use 3Spine system, the anatomically shaped pads can be attached to the saddle in just a few steps.
Due to its unique wither- and lumbar-friendly shape, this technically demanding pad can also be used without the 3Spine system.
Please note that the velcro saddle component is not included in the scope of delivery. This product is available separately.
SKU: 10000-381TH