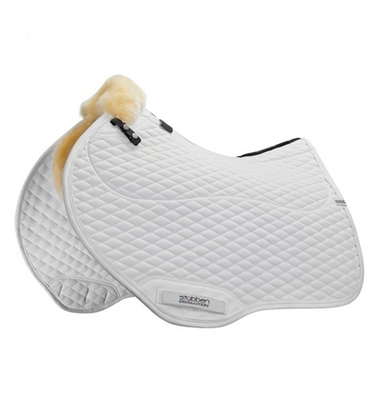 STREAMLINE LAMBSWOOL CLOSE CONTACT JUMPING SADDLE CLOTH - WHITE
STUBBEN
$399.95
The anatomically shaped Streamline saddle pad dressage convinces with special comfort under the saddle. The robust Velcro strip on the top line in the loin area of the saddle pad in conjunction with the saddle component helps to ensure that the product remains chambered while riding and does not pull on the withers or into the horse's loin area. The sensitive area around the spine is thus protected.The thin profile of the entire saddle pad also contributes to this effect, supports a stable connection to the saddle and prevents slipping and thus friction.
The Steamline saddle pad is equipped with a super-soft velour border, a fashionable piping band, reinforced girth and swirl channel zone as well as adjustable press stud fastenings on the breastplate drop rings.
Note on the white saddle pad:In order to prevent stains and to achieve an optimal washing result, we have used a poly-cotton edging instead of the velour edging for the white saddle pads.
Please note that the velcro saddle component is not included, this product is available separately.
The Streamline Dressage Pad is also available as Close Contact Dressage pad.
SKU: 10000-381TH